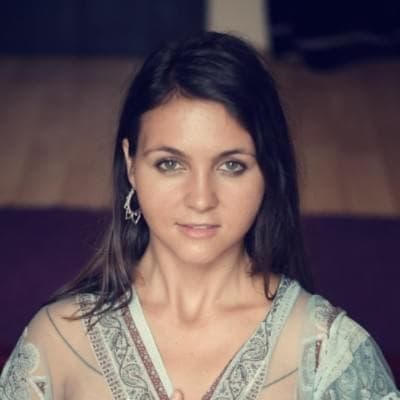 References
I see tantra as my own journey of pesonal development. Spiritual way in which the soul, mind and body can connect. Tantra is a way for me how to come to our nature and to remind the simplicity and nature of present moment - here and now. Tantra takes you back to the centre - to the heart. It can ignite again your will to experience - to live.
Meeting with me are inspired by my passion for dance and shamanism and element of Mother Earth. Every human being is unique and unique touch. My massages are intuitive and everytime different. My touch is full of empathy and also firm and confident. I like to explore the energetic levels and consciously move the physical body and other bodies. I can offer classic tantra ritual, intimate dearmouring, body dearmouring, consciouss BDSM with shibari elements, shamanic hawaian bodywork, indian head massage, reiki, prana healing, meditation massage or regeneration massage using lava stones. I can offer also shamanic rituals, guided meditation, guided, spontaneous or transe dance, consultation or massage lecture for men and women.
Trainings
Betty Martin - course Circle of agreement
John Hawken - course Dark eros
Guy Barrington - Dancing heart path (2 years of self development training)
Vojtěch Chládek - Tantra massage, Body dearmouring
Eduspa - requalification massage course
Alfa level massage
Indian head massage
Lava stone massage
Honey detoxication massage
Reiki course - 2nd level, Traditional Usui system (Petr Chemlík)
Prana healing - 1st degree (I. Dortová)
Biodynamic massage in psychotherapy course - Prague College of Psychosocial Studies (J. Špicnerová, M. Ambrožová)
Kahuna navigator - hawaian shamanic bodywork - Hawaii (Wayne Kealohi Powell)
About me
Tanta massages I do since 2015. My big life passion is dance and active meditation. Through body I discover myself and get to deep states of selfknowing and connection with self. In 2017 I made my fist quest to South America, where I got to deep understandings through amazon medicines. I am interested in alternative ways of healing a natural path through life. I like to travel and experience how other people live. I love everything living and because I feel the life force in all, I am all the time in love. I am interested in tribal rituals and in my soul I am a witch, I like card interpretation, astrology and human soul analysis.
Offered services
Tantra massage for men
BDSM tantra for men
Tantra massage experience for your partner

BDSM t

antra massage experience for your partner
Reservation:
We offer gift voucher for all our services.