Tantra massage for couples
For all courageous couples who want to open their relationship to new possibilities and adventures.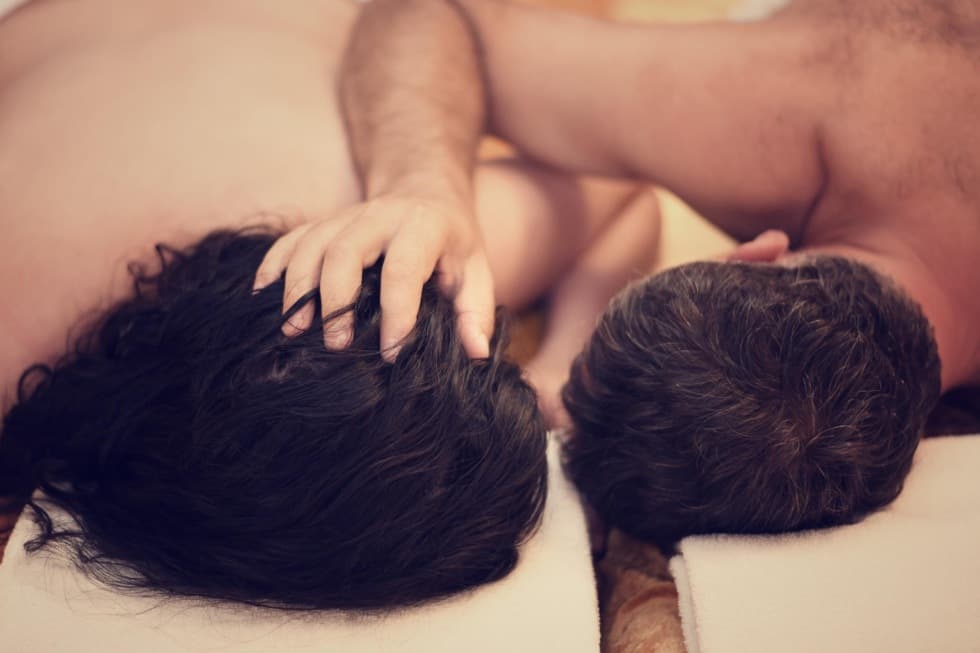 What awaits you and your partner
In the opening talk you share your needs, your wishes and your intentions for the massage and settle on what the massage will contain. You agree with each other and your masseurs on your boundaries, for example whether you want to be touched at your intimate areas, lingam (penis) and yoni (vagina).
The massage begins with a ritual to open your special tantric space and create resonance between you both. Then it is time to connect with your own body and let go of everything what you don't need right now. Every part of your body will be touched sensual or firmly, gentle or dynamic. You will enjoy a sarong massage, hot towels, sensual feathers or fur touches. Even when relaxing deeply into yourself you will feel the presence of your partner enjoying the same process.
Prepared for the main part of the massage, you will savor a full-body warm oil massage with dynamic, sensual and erotic elements. Relaxing your muscles and deblocking your inner channels, it opens you to energy flow between sex and heart. You will surrender through deep and sensual breast massage, pelvis opening massage or anal massage.
According to your wishes, you will now be wonderfully touched on your whole intimate area. If you want to go to pleasure and excitement, surrender to the expansion of sexual energy spreading to your whole body. Orgasm may come (or not), but with totally different quality. There is no goal to reach …
The massage ends with a deep relaxation and closing ritual. In the end you have time alone with your partner to enjoy this intimate moments. After a while, your masseurs will invite you to share about the common experience.
What the massage contains ...
Introductory ritual
Relaxing hot towels massage
Sensual touching with furs, feathers and other sensory tools
Relaxing head and face massage
Massage of main muscles of neck, back, buttocks, limbs
Deep tissue massage of pelvis, groin, perineum
Anal massage
Breast pampering
Massage of intimate parts including Yoni or lingam
Taoistic erotic massage elements
More options
Your massage may also include BDSM tantra elements, more here.
If you want to stay longer in the wonderful atmosphere of our tantric space, add a relaxing wellness experience through whirlpool bath and/or quality refreshments - more here.
We are open to your special wishes ...
What Tantra massage for couples brings to your life ...
The benefits of tantric massage itself can be found here: for men, for women.
In the special setting of a couples massage, tantra serves as a stimulating and renewing source for your relationship, your love and sexuality. In addition to the unique relaxing tantric massage experience, you can touch together excitement, opening of hearts and expansion of consciousness. Shared intimacy within a secure framework of agreed boundaries can be liberating, interconnecting and exciting. The topic of mutual boundaries is often very sensitive and for the sake of true intimacy should not be avoided. With us you can openly talk about this topic, getting feedback and support from experienced professionals. Through a shared experience in a safe setting many issues can relax and heal. You can feel more what you need, what is good for you or not. Accordingly, find with your partner a concerted path with which you both feel well.
Tantra massage for couples
We recommend you to enjoy our massages as a amazing experience, to which you can add anything from this offer: wellness - jacuzzi (1 hr for 600 Czk/ 30 Eur), delicious food (for two peple for 500 Czk/ 26 Eur), wine / champagne (for 400 Czk/ 20 Eur). We are open to any other your ideas and mutual agreement.
Masseuses and masseurs providing this service
We offer gift voucher for all our services.