Tantra massage for women
Tantra massage for women - a true pearl of massage. Relax into your female energy. Get holded, nurtured and cared.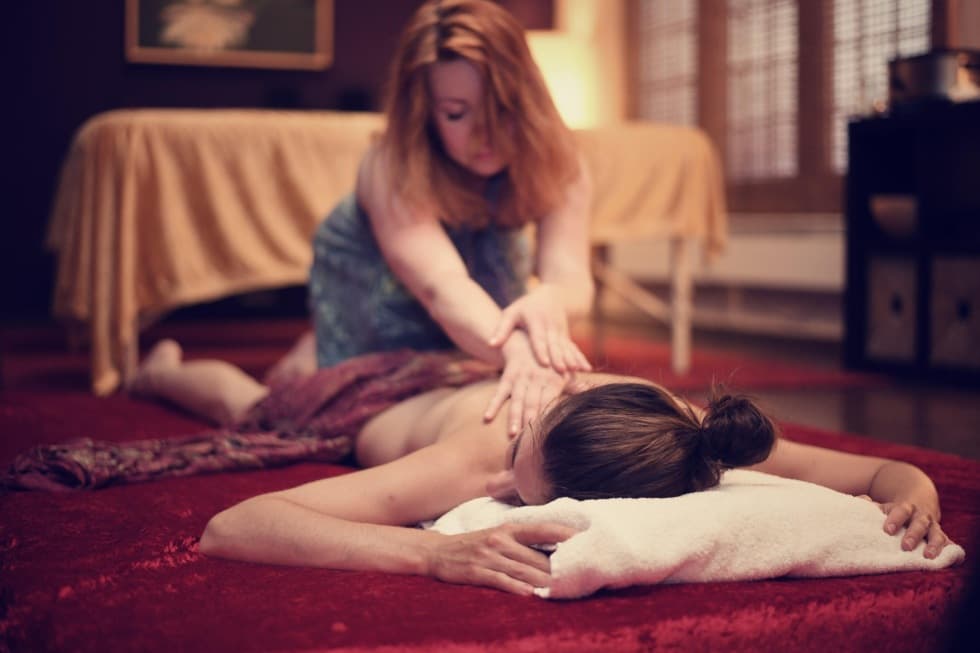 What awaits you ...
In the opening talk you share your needs, your wishes or your intention for the massage and what the massage will contain. You choose if you will be naked or not and if you want to experience a massage of your intimate areas and in which way, only outside or also inside the yoni (vagina).
The massage begins with a ritual to open your special tantric space and create resonance between you both (and with spirit). Then it is time to connect with your body and let go of everything what you don't need right now. Every part of your body will be touched sensual or firmly, gentle or dynamic. You will enjoy a sarong massage, hot towels, sensual feathers or fur touches.
Now prepared for the main part of the massage, you will enjoy a full-body warm oil massage with dynamic, sensual and erotic elements. Relaxing your muscles and deblocking your inner channels, it opens you to energy flow between sex and heart. You will surrender through deep and sensual breast massage, pelvis opening massage or anal massage.
According to your wishes, you will now be wonderfully touched on your whole intimate area. Feel how the loving and respectful attention of your masseur or masseuse brings you in greater contact with yourself and heals painful experiences. If you want to go to pleasure and excitement, surrender to the expansion of sexual energy spreading to your whole body. Orgasm may come (or not), but with totally different quality. There is no goal to reach …
The massage ends with a deep relaxation and closing ritual.
What the massage contains ...
Introductory ritual
Relaxing hot towels massage
Sensual touching with furs, feathers and other sensory tools
Relaxing head and face massage
Massage of main muscles of neck, back, buttocks, limbs
Deep tissue massage of pelvis, groin, perineum
Anal massage
Massage of intimate parts including Yoni
Body to body massage
Taostic erotic massage elements
Flowing Kashmiri contact massage
More options
Your massage may also include BDSM tantra elements, more here.
If you want to experience exceptional deep surrendering a wonderful way is to enjoy a "more than two hands" massage with two or more masseuses.
If you want to stay longer in the wonderful atmosphere of our tantric space, add a relaxing - more here.
We are open to your special wishes ...
What Tantra massage brings to your life ...
On the psychological level, the massage brings you deep relaxation, fulfillment and satisfaction. You will feel honoured in your power, strength and very personal beauty, accepted as you are. You may call this experience "love". You will feel stronger to deal with obstacles in life such as stress, work tasks, or relationship issues. Through bringing you to altered states of consciousness, Tantra can also open you to new visions, ideas and answers, supporting your way towards a fulfilling life.
In the sexual area, Tantra massage teaches you how to reach new levels of pleasure and spread the excitement beyond the genital area to whole body. You learn how to delay the climax and deal with sexual difficulties. Tantra Massage helps you to learn more about your sexual desires and boundaries, your feelings and wishes and to express your sexuality fully. Through all that you grow as a lover to yourself and to your partner.
On the physical level the massage increases bloodflow, relaxes the muscles, soften painful parts and detoxifies the organism. We focus on harmonizing the body, opening energy channels (meridians) and balancing Yin and Yang. The massage of the deep pelvic area supports the funtcional interaction of the whole intimate area and helps with issues like orgasm difficulties or menstruation problems.
Tantra massage is strongly rooted in the broader spiritual way of Tantra in general. If you are open to this spiritual level, you can expect a Tantra massage to be a deep experience of meditation and prayer to your divine being as Shakti. ...
2 masseurs or masseuses
If you are interested in two or more masseuses the price is 700 CZK / 30 Eur for half an hour of each masseuses.
Masseuses and masseurs providing this service
We offer gift voucher for all our services.